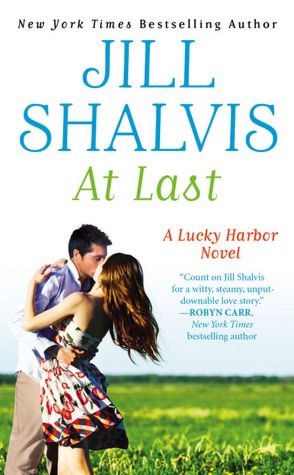 Title:
At Last
Author:
Jill Shalvis
Series: Lucky Harbor Book 5
Release Date:
June 26, 2012
Publisher:
Forever
Genre:
Contemporary Romance
Rating: 4 Hoots
Reviewer: Karia
Buy From: Amazon/ Barnes and Noble/ Book Depository
Sum It Up!

While their HEA was slow and gentle, their affection and camaraderie with their friends really made this story enjoyable.
HER LOVE HAS COME ALONG . . .
Amy Michaels loves her new life in Lucky Harbor. A waitress in the local diner, she's looking forward to her first weekend hike through the mountains. But when a wrong turn takes her off the trail, she finds herself up close and personal with forest ranger Matt Bowers. And even though she's tempted to kiss that sexy smile right off his face, she won't make the mistake of getting involved with the town heartthrob.
A former cop whose life went south, Matt doesn't let anyone get too close. But something about the feisty beauty caught his eye the moment he first saw her in the diner. After a hot night under a starry sky, Matt can't deny their attraction-or the fact that for the first time in a long time, he feels the stirrings of something more. Now it's up to Matt to help Amy see that, no matter what is in their past, together they can build a future in Lucky Harbor. (Goodreads)
Review:
Mmmmm, two scarred, but not broken people wandering through life, running away from their problems and seeking solace in a small sleepy town on the West Coast. That about sums up,
At Las
t.
Amy has been dealt a hard hand. She was the accident her mother never took responsibility for and had left her to be raised by her grandmother. At the age of twelve, Amy's life collapsed when her grandmother died and she was sent to live with her mother and new Stepfather. While he was rich and powerful, he was also a sick perv. Fleeing that nightmare, Amy willingly walked into another: life on the streets. It took her years, and tons of mistakes, but Amy pulled herself up and started to live an honest life. A life in Lucky Harbor.
Matt is the classic personally detached former military, former SWAT, former city slicker. After a shit storm in Chicago left him raw, emotionally depleted, and disillusioned about love and marriage, Matt ran to the wilds of Washington. The hardened man still isn't so broken that he mistakes the chemistry he and Amy throw at each other. With six months of circling around each other under his belt, Matt is ready to take off said utility belt and show Amy all the things he has learned about search and rescue.
While their HEA was slow and gentle, their affection and camaraderie with their friends really made this story enjoyable. I really liked the chocolate references at the beginning of each chapter. I must say, they had me reaching into the Lindt Sea Salt bar a few too many times and hitting Starbucks for their double chocolate brownie! But as I racked up the gold stars at Starbucks, Amy and Matt reached for the stars on Widow's Peak...and we all found a smooth finish! Enjoy.