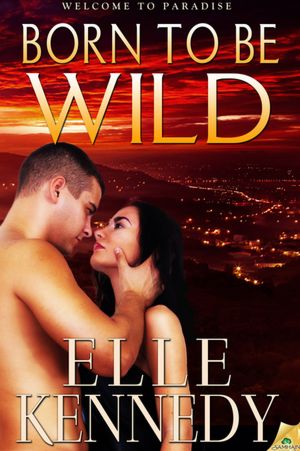 Title:
Born to Be Wild
Author:
Elle Kennedy
Series:
Welcome to Paradise Book 3
Release Date: April 17 2012
Publisher:

Samhain Publishing
Genre:
Contemporary Romance
Rating: 4 Hoots
Reviewer: Karia
Buy From: Amazon/ Barnes and Noble
Sum It Up!

This was a great little novella that had some good steam and two romances for the price of one.
Being bad never felt so good...Welcome to Paradise, Book 3
Bree Lockhart was always the good girl-on the surface. During her senior year of high school, however, her inner bad girl was lured out to play by reckless, carefree Jake Bishop. Her parents' worst nightmare, and the man she's never forgotten. Twelve years later, she's home for a charity event and up for auction. The highest bidder? Jake. This time around, he wants more than a wild ride-he wants it all. But she's not about to risk her heart on another fling that'll just leave it in pieces. Jake once reveled in showing Bree how good it is to be bad. But convincing her he can be good for her is going to take some very special tactics...
Product Warnings
This book features a bad boy soldier determined to chip away at a good girl's resistance with hot sex, hot sex, and...more hot sex. (Goodreads)
Review:
This was a great little novella that had some good steam and two romances for the price of one. Lexi and Cooper were intended as side characters, but I really enjoyed their bits (and scenes)! Bree and Jake were magic some twelve years ago, but real life dictated that these two from opposite sides of town not be together. Fast forward, nothing has changed. Bree is still drawn to Jake like a bee to honey. Jake, for all his years in the service, cannot rein in one ounce of his famed control when it comes to Bree. After just one hot and heavy kiss, these
two are at it on the floor of a private dining room in a local five star restaurant!
But in a somewhat stereotypical fashion, Bree's rich parents do not approve and take great pleasure in hurting Jake the night Bree brings him to meet them. These two had a lot of growing up to do, but I enjoyed watching them fight it out and earn their HEA. FYI, Jake and Cooper for that matter are quite the potty mouthed talker...but for good girls Bree and Lexi, it works! Enjoy!