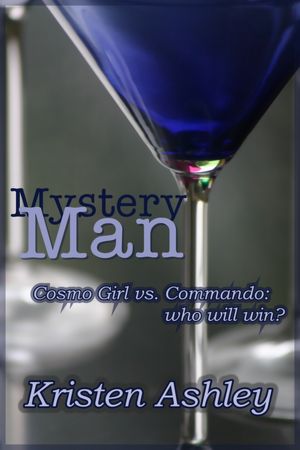 Title: Mystery Man
While drinking cosmopolitans, Gwendolyn Kidd meets the man of her dreams. Then she takes him home. Then she wakes up alone. But her fear that she lost her dream man turns into a relationship with a mystery man when, night after night in the dead of night, he comes back for more. Hoping it will blossom into something real, she lets him.
But she doesn't even know his name.
Gwen's struggling with the decision to end their crazy non-relationship when her sister-from-hell, Ginger's best friend pays a visit and warns Gwen that if she and her sister don't get smart, they'll both get d-e-a-d, dead. Gwen has no clue what's going on but she's used to Ginger's antics and decides to lay the problem on her sister's biker boyfriend's doorstep. Bad choice. She hits the Denver Underground radar with a big, loud ping.
This means Gwen's Mystery Man, Cabe "Hawk" Delgado has to step in to keep her safe. But when Hawk gets a dose of Gwen in the daylight, he makes the decision that he finally wants real with Gwen. However when Gwen gets a dose of badass, bossy, straight-talker Hawk in the daylight, she decides she's done.
Thus begins the head-to-head of the Commando vs. Cosmo Girl as Hawk woos Gwen in his own unique way, Gwen survives firebombs, drive-bys, kidnappings, hot pursuits by biker hotties and gorgeous police detectives and discovers the heartbreaking reason why Hawk kept her at arm's length.
And as all this happens, Gwen finds that her sister's troubles are serious trouble and she must decide who to keep alive: her sister-from-hell or the man of her dreams.

(Goodreads)
Review:
You know, when you find something good...you share it with friends. Thank you, thank you, thank you my goodreads friends for opening my eyes to Kristen Ashley. Ms. Ashley writes amazingly detailed, hard hitting, straight up sexy stories that had me coming back for more...and more...and more!
The Dream Man series starts with Gwen and Hawk. While their year and half "romance" is not your standard fling, their passion and possession are off the charts. Hawk keeps tabs on Gwen either himself or by one of his commandos from the minute he spots her from the sidewalk outside her favorite hangout. From that moment, he has bidding his time and in his mind, wooing her to his side. Gwen for her part, has some serious hang ups. Why else would a woman settle for a year and half long booty call?
As the stakes increase, Hawk moves in on Gwen. He tells her how it's gonna be and he uses much profanity to do so...be warned Ms. Ashley's men have quite the potty mouths. But it works. As Gwen tries to help her estranged sister Ginger (who is into biker gangs for two million and in even deeper to some really bad guys), Hawk tries to keep Gwen safe. But, as the unknown element strives to smoke out Ginger by using Gwen as a pawn, it takes Hawk and all his commandos plus an interested biker gang leader named Tack to keep her safe. With three hunky men lusting after her (did I forget to mention a gorgeous police detective named Mitch), Gwen has to choose with which team she is going to side.
This story was great! I loved the action, the drama, the chick-talk and the HE-man macho chest pounding. If you love smart talking women and rough rude talking men, check out Kristen Ashley...Enjoy!