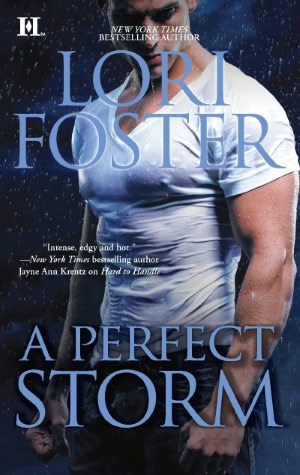 Title: A Perfect Storm
He never saw her coming…
Spencer Lark already knows too many secrets about Arizona Storm, including the nightmare she survived and her resulting trust issues. But in order to expose a smuggling ring—and continue avenging his own tragic past—the bounty hunter reluctantly agrees to make Arizona a decoy. Yet nothing has equipped him for her hypnotic blend of fragility and bravery, or for the protective instincts she stirs in him.
Arizona wants to reclaim her life, which means acting as bait to lure the enemy into a trap. Sure it's dangerous, especially with a partner as distractingly appealing as Spencer. But as their plan—and their chemistry—shifts into high gear, Arizona may discover there's an even greater risk in surrendering her heart to a hero…

(Goodreads)
Review:
Jackson Savor saved Arizona's life in more ways than one. First, by pulling her out of the ice-cold river when her kidnappers tried to kill her, then by trying to teach her that her life had value. The first favor from Savor was acceptable to Arizona...the latter however was still an open question.
In Jackson's book we meet his psuedo-sister Arizona as she strives to cover his back. While she is preoccupied watching Jackson and Alani's backs, she pops up on Spencer Lark's radar. As an independent contactor, Spencer knows Arizona has a few moves to play, but deep down the only moves he wants her to play are the ones on her back in his bed. But bedding Arizona proves even harder than gaining her trust. I just absolutely loved watching him try though. The side story with Spencer's neighbor had me laughing out loud.
As beautiful and as rugged as the other Men Who Walk the Edge of Honor, Spencer is on the outside of the fold, which is exactly where Arizona herself tries to stay. She pushes everyone and everything out of her life, lest she let her guard down. While human traffickers are hell bent to get Arizona onto her back, Spencer is determined to do the same, but with even deadlier intensions. He plans to make love to her.
Love, it is such a foreign concept to Arizona that at times I wanted to scream at her and at other moments snatch her up and hug her tight. Ms. Foster is a master at creating the flawed and broken hero. In this book, our heroine (technically, but to me she is a kickass hero)...is flawed, broken, and tragically an emotional mess that had me cheering for her, loving her, and so happy for her HEA with a man who truly lived up to his hype! Enjoy!