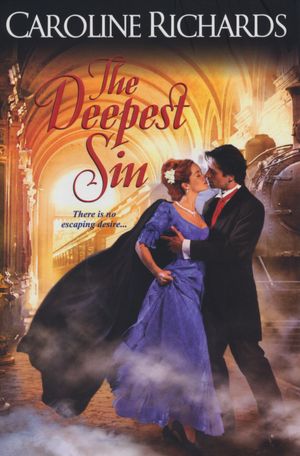 Author:
Caroline Richards
Series: Book 3
Release Date: January, 2012
Just when Lady Meredith Woolcott thinks she is safe, the nightmare returns. A madman who will stop at nothing has her in his sights once more. Protecting Meredith was never part of Sir Richard Archer's assignment. His duty is to pursue her...follow her every move...and let her be the bait that draws a murderous villain out of the shadows and into his grasp. Against his orders and his every instinct, Archer refuses to let Meredith endanger herself - and she refuses to relent, forcing them to partner together to ferret out the threat. But the inferno of passion between them has its own seductive dangers, putting their trust to the test at every deadly turn... (Goodreads)
A trip to an ancient archeological site turns into an attempted abduction and death. Which in turn, leads to being stuck in a sandstorm huddled under a blanket next to a man that sends electrical shocks through your body at the mere sight of him.
What a way to being a book. Richards shows off her artistic ability from the very beginning. She brings the scenery and characters to life so effortlessly you feel as if you are sitting in the sand alongside them. There is enough action and mystery to keep the pages turning at an alarming rate.
Meredith has something about her that draws Archer to her. It is also what drew another former lover to her; unfortunately he turned out mentally unbalanced and threatened the lives of loved ones. So it is with trepidation that Meredith puts her trust in Archer, especially when he refuses to tell her the truth behind his actions. Archer is an interesting man in his dangerous pass times and reclusive behavior. It would have been nice to get a deeper peek into his soul.
Wonderfully written, action packed, with memorable characters. It will make you want to find the previous two books in the trilogy to fill in the questions of what happened before Meredith met Archer.