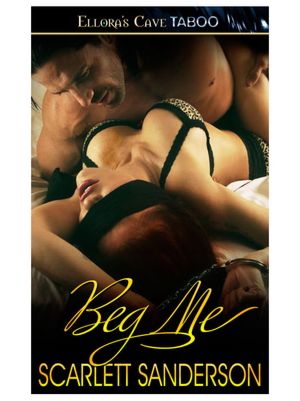 Title: Beg Me
Author: Scarlett Sanderson
Release Date: November 2011
Tessa fantasizes about being tied up and tantalized with pleasure. She longs for a man to take control, to drive her wild with lust. But she's never been able to let go and indulge in her most taboo desires.

The second Jared sees Tessa, he wants her. Her fierce intelligence and repressed sensuality call to him, make him burn with a passion he hasn't felt in years.

Jared offers Tessa a deal—for a month, they'll play a game of dominance and submission. He'll make her beg, make her moan, make her come harder and faster than she ever has before. In return? He just wants great sex. No strings attached. But when he can't get enough of Tessa's scent, her taste, her touch, he realizes what he really wants is her love. (Goodreads)
Review:
Scarlett Sanderson's Beg Me is one of those rare stories that surprises even the reluctant reader. Although the story deals with dominance and submission, it is a wonderfully developed love story that warms the heart.
Tessa is a sex therapist who secret passion is to submit to the one person that will fulfill her needs. Stepping out of her comfort zone, she visits a BDSM club to watch and learn. Tessa soon learns that giving in to her needs is not an easy task.
Jared, owner of the club, notices Tessa when she walks into the club. His fascination about her innocence makes him want to learn more about her. When a member of the club takes advantage of Tessa, he saves and comforts her.
When Tessa gives Jared a kiss that soon ignites both of their passions, Jared stops at nothing to find Tessa and make her his own.
Sanderson's characters allow the story to develop into a romantic interlude that leaves the reader wanting more. It is her attention to the tiniest details makes this story stand far above the rest.