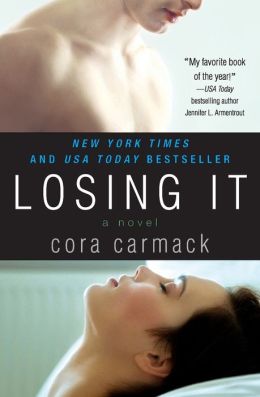 Title:
Losing It and Faking It
Author: Cora Carmack
Series: Losing It
Release Date:
Feb 26th and June 4th 2013
Publisher: William Morrow
Genre: New Adult

Romance
Rating: 4

Hoots
Reviewer: Lenore
Sum It Up!

I enjoyed both plot lines and thought that while somewhat far fetched, each story was developed and had great characters to compliment a great story.
Summary:
LOSING IT:
Bliss Edwards is about to graduate from college and still has hers. Sick of being the only virgin among her friends, she decides the best way to deal with the problem is to lose it as quickly and simply as possible—a one-night stand. But her plan turns out to be anything but simple when she freaks out and leaves a gorgeous guy alone and naked in her bed with an excuse that no one with half a brain would ever believe.
And as if that weren't embarrassing enough, when she arrives for her first class of her last college semester, she recognizes her new theater professor.
She'd left him naked in her bed about eight hours earlier. . . .
Mackenzie "Max" Miller has a problem. Her parents have arrived in town for a surprise visit, and if they see her dyed hair, tattoos, and piercings, they just might disown her. Even worse, they're expecting to meet a nice wholesome boyfriend, not a guy named Mace who has a neck tattoo and plays in a band. All her lies are about to come crashing down around her, but then she meets Cade.
Cade moved to Philadelphia to act and to leave his problems behind in Texas. So far though, he's kept the problems and had very little opportunity to take the stage. When Max approaches him in a coffee shop with a crazy request to pretend to be her boyfriend, he agrees to play the part. But when Cade plays the role a little too well, they're forced to keep the ruse going. And the more they fake the relationship, the more real it begins to feel.
Reviews:
I am finding all my new favorite books in the new genre New Adult Romance. Both books focus on young actors in theater. The rock star, music gig has been a fairly popular topic in the romance world of late, and now I am seeing more actors coming into play. I enjoyed both plot lines and thought that while somewhat far fetched, each story was developed and had great characters to compliment a great story.
LOSING IT is about Bliss and Garrick. Both characters are interesting and likable. Bliss is a virgin that over thinks everything. While the extent of her over thinking can be a bit outlandish, I understand where Carmack is coming from. Because Bliss thinks about every possibility (and focuses mostly on the bad ones) she does not come out of her shell and enjoy herself. Garrick on the other hand is a bit less developed than Bliss, but still a great male lead. The two have great chemistry that for the most part is believable and very sweet. Hot hot hot does not necessarily describe this couple, but with who Bliss is and the nature of their relationship, it really shouldn't be. I liked the balance between friendship and sex that Carmack employs here.
FAKING IT is a great title for Cade and Max's story. Both of them have their pasts and emotions that they are "faking" in their presents. While Cade is struggling from heartbreak, Max is simply tortured. Tortured by her past, present, and the future holidays she knows she will have to endure. In this case, Cade has been developed throughout LOSING IT and now in his own book FAKING IT. I love Cade. Plain and simple. He is perfect for Max. Max is a great female character. She has her strengths and weaknesses. She is feisty and vulnerable. These two have better chemistry than Garrick and Bliss and are indeed hot. I loved their romance from the first time they were introduced together.
Overall, Cora Carmack has delivered two great new adult romances. Two couples, two books, one great genre. I highly recommend this series to those looking for a romance with substance. Fans of contemporary romances should definitely try their hand at the new adult genre. Look for FINDING IT coming October 2013.