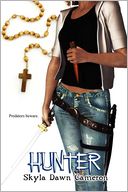 Author: Skyla Dawn Cameron
Series: Demons of Oblivion Book 2
Release Date:
August 2011
Publisher: Mundania Press
Genre: Paranormal Romance
Sometimes natural predators need to be kept in check, and for that, there's Ryann David. Orphaned as an infant and raised by an exiled branch of the church to become a warrior for God, she and her fellow members of Venatores Daemonum have trained all their lives with only one purpose: destroy all demons in the mortal realm.
But when Ryann and her team are sent to hunt down a vampire who has killed one of their own, a new world of danger, betrayal, and conspiracy greets her. Allied with an irreverent psychic detective and the very monsters she was raised to kill, Ryann will risk everything—her life, her faith, and her heart—in pursuit of the truth as the black and white existence she knew turns a murky shade of gray. (Goodreads)
A nun, a physic, and a hunter walk into a bar...
Not just any bar, a bar that caters to those mythological creatures that goes bump in the night. And this is where our nun, psychic and hunter meet the short, sassy, lethal vampire knows as Zara Lain. From here on out their lives will never be the same.
Hunter
is the second book in the Demons of Oblivion series but reads very different that the first book. You see the world through the eyes of a young nun named Ryann (yes she is a girl with a boy name). She is sent out on her first assignment and is forced to work with Ellie (Elliot, but he goes by Ellie), a frustrating psychic that has the ability to get under her skin like no other.
Since you are seeing the world through the eyes of Ryann everything is new and shocking. The most shocking would be Zara Lain, the foul mouthed snarky vampire she should be killing but ends up working with. Zara is still her confident cocky self, but you also get a glimpse into her heart when Ryann tries to pry into her past. As strong of a character as Zara is, Cameron did a wonderful job of writing her into the story but not taking over. It is still Ryann's story and all about her seeing the world for the first time with no blinders on.
This is a surprising new direction for this well-written second book in the series. Perhaps the different voices Cameron uses will help strengthen the series. If you have readBloodlines (book one) you might wish for more Zara Lain, or even for some more hints into what she is going through with Nate underground. If you can be patient Zara will return to the forefront further into the series, in the mean time hints and brief appearances are all we will get. It will be interesting to see where Cameron goes with book number three.