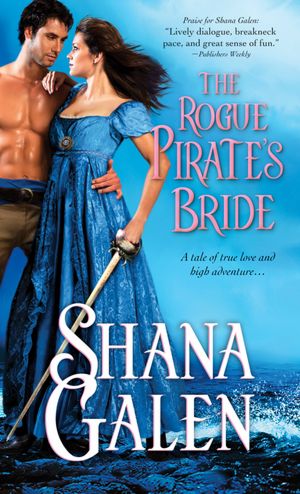 Title: The Rouge Pirate's Bride
Release Date: Febuary 2012
Publisher: Sourcebooks Casablanca
Passionate, action-packed Regency romance by RT Reviewer's Choice award-winning author Shana Galen features the swashbuckling Sebastien Harcourt, Marquis de Valere, and the nautical genius heroine destined to best him. After escaping France on a privateer's ship, Sebastian becomes the notorious privateer Captain Cutlass. His reputation as a rogue precedes him and he's undefeated in battle, until he crosses swords with the beautiful daughter of a British admiral. Raeven Russell is out for revenge, but now she's not so sure she wants the dashing captain to change his wicked ways. (Goodreads)
Aren't fathers who can't say no to their little girls and raise them to be strong independent women the best? If not for these fathers, there would be more than just the world missing out on the benefits of strong willed women. The men these women choose to love would also be missing out on a full life, and in some instances their very lives.
Raeven is one such audacious young woman. With a Captain as your one and only parent life at sea is inevitable. The physical demands and adventure that go along with that life suit Raeven perfectly. She is a well-written character that looses some of her naivety through the story.
Bastien is everything you want in a pirate, a hidden background, intelligence, honor, and a feast for the eyes. His story is more than just the hero that supports the heroine through everything. It is really Bastien's story that has all the action. He is the one bent on revenge and sees it fulfilled. It is his life that hangs in the balance. And it is his family that he finally gets closure with. Rogue Pirate's Bride is truly an emotional ride for this handsome pirate.
Galen is a master storyteller. She will quickly pull you into Bastien and Raeven's story. Rogue Pirate's Bride is action packed historical romance at its finest.

It is book three in the series but you will not be lost at all, on the other hand you will definitely want to track down books one and two as soon as you finish.