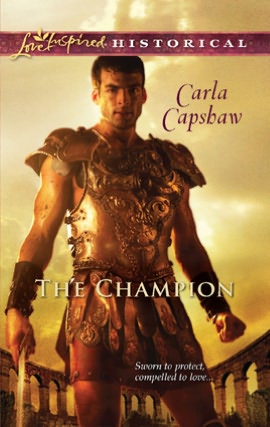 Release Date: August, 2011
A Warrior without Equal, a Woman without Options
Triumphs in the Coliseum—and society bedchambers— made gladiator Alexius of Iolcos famous for his brutal skill and womanizing ways. Yet the only woman who intrigues him is Tiberia the Younger, who now needs his help. Protecting Tiberia places Alexius in the greatest danger he has ever known—from her vengeful father and his own heart…
Becoming a temple priestess may be an honor, but Tibi can't bear to surrender her freedom or her newfound faith. Alexius's solution stuns her. Marriage…to a gladiator! Scorned by her noble family, Tibi always felt unworthy. But with her champion by her side, can she accept—and give—a love strong enough to vanquish their enemies? (Goodreads)
A hardened gladiator finds healing in the love of a woman he believed above him, and in a God who has enough forgiveness to wash even the most blood-covered murderer clean.
The romance in
The Champion
will have you turning the pages faster than you expected. Alexius and Tibi are drawn to each other despite the wide social rift between them. Love knows no bounds in
The Champion
. As they fall for each other, each entrusts the other with their deepest hurts and scars, by doing so, they begin to heal themselves.
This book is well written; the story line between Alexius and Tibi flows smoothly as if guided by an unseen hand. That unseen hand is acting in response to the prayers of the main characters friends. The part where Alexius and Tibi finally realize that and accept God is watching over them and cares for them felt a little rushed. Still it is a moving part of the story and necessary to the healing process for the characters.
A light enjoyable read that leaves you feeling happy and smiling at the end. Just as Alexius and Tibi feel.