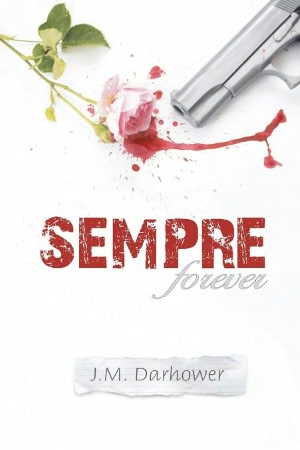 TOP PICK
Title: Sempre
Author: J.M. Darhower
Release Date:
January 2012
Publisher: CreateSpace
Genre: Contemporary
Rating: 5 Hoots
Reviewer: Brandi
Buy From: Amazon/ Barnes and Noble
Sum It Up!

This is without a doubt my favorite of 2012!
Summary:
This is a story about sacrifice... death... love... freedom. This is a story about forever.

Haven Antonelli and Carmine DeMarco had vastly different childhoods. Haven, a second-generation slave, grew up isolated in the middle of the desert, her days full of hard work and terrifying abuse. Carmine, born into a wealthy Mafia family, lived a life of privilege, never having to answer for anything he did. Both now seventeen, a twist of fate causes their worlds to collide, making them question everything they ever believed.

Entangled in a web of secrets and lies, they learn that while different on the surface, they have more in common than anyone would think. In a world full of chaos, where money and power rule, Haven and Carmine yearn to break free, but a string of events that started before either were born threatens to destroy them instead. Murder and betrayal are a way of life, and nothing comes without a price — especially not freedom.

How much will they have to sacrifice? Can they escape their pasts? And, most of all, what does it mean to be free? Not everything is as it seems, and no one can possibly come out unscathed, but maybe, just maybe, it'll be worth it in the end. (Goodreads)

Review:
Sempre is one of the most outstanding stories I have ever had the pleasure of reading. I could write pages as to why this book blew past my expectations but I will keep it short, breaking it down the key elements.

The Characters- Gripping! They are written perfectly for this story and I fell in love with all of them. Haven starts off as you would expect. She is very timid but as Carmine brings her out of her shell, she turns out to be one of the strongest characters in this story. As for Carmine, at first he is irresponsible with sex, drinking and drugs but it turns out he just needed to be loved by the right girl.
If you're looking to read a good Alpha male...then look no further, Carmine is your guy. And let's not forget Vincent, Carmine's father, who seems to hold the key too many secrets. As you get to know Vincent the more you will come to understand his many decisions and ends up not being as evil as we were first lead to believe.

The Romance- Beautiful! As Haven and Carmine's relationship unfolds it is memorizing with gentleness. Carmine is a total bad boy but we see him soften his ways to Haven and his affection turns her into a stronger person. He will do whatever it takes to keep his "hummingbird" safe, even if he does get himself in way over his head. I loved the scene stealing moments that involved Haven and Carmine, especially their Valentine's Day date!

The Plot- Edgy! First and foremost, Darhower delivers an astounding storyline in the Mafia world. She tells a very touching and realistic story and does it with pristine perfection. This plot contains unrelenting mysteries that will keep you guessing until it's time for you to know the answers!

This is without a doubt my favorite of 2012!